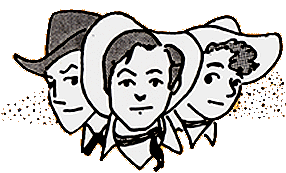 The Trail Riders' Favorite Web Sites
Hollywood Cowboys Exhibit
(Hoover Presidential Library)







Christopher "Kit" Cassiday, Walter "Slim" Rafferty, and Norman "Alibi" Jones first met in the trenches of the Great War, and would become fast friends and staunch allies in the West of the nineteen twenties.
Their disparate backgrounds made them an unlikely team, but they stayed together for many years. Kit, born in San Bernardino, California in 1893, was a true Westerner. Slim, from Seattle, Washington, had moved with his family to a sheep station in Australia in 1899, when the boy was only four years old. Alibi, oldest of the trio by a couple of years, hailed from Brooklyn, and only journeyed west after the War.
After the conflict, Slim joined Kit as a US Marshal in the Wild West, and when Alibi got himself into trouble and had to be rescued, the pair saved him and brought him back to their home base of Mojave, California.
After a change in administration found the boys out of work, they bought a ranch in Santa Susana, near Los Angeles, and settled in to stud farming. Of course, even in the horse business, they found trouble and adventure, and with their friends, the singing group the Oakie Doakies, they continued their exploits in the closing days of the Old West.
Kit even found himself as a star of Western pictures in the pre-talking era.
Kit, having maintained a journal of their adventures over the years, was pleased and flattered when CL asked to include them in the pages of Amazing Adventures, where you can read them to this day.
The boys, sadly, are no longer with us, but you can bet they'd be tickled to know that they could share their interests with you.