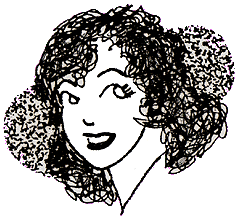 Helia's Favorite Web Sites
Other space stuff



Helen Julia Laurel, better known by her nickname, "Helia", was one of the original female astronauts in the "Venus" program of the early nineteen seventies, a coöperative venture between the fledgling Empire and the US Space Program. Born in Raleigh, North Carolina, in 1941, she was in her prime when the Venus Four flight took her to investigate the "strange blue area" on the Moon, the site of a destroyed base on the International Executive of Crime, Continent-Eight.
As a result of exposure to radiation and chemicals on the site, great power in Helia's mind was unlocked, power her consciousness was unable to comprehend.
This brought about the creation of a second personality, one that was all the things Helia wasn't (or, actually, did not perceive herself to be): Tall instead of average, blonde instead of brunette, strong instead of weak, brave instead of reticent ? qualities without which she'd never have become a space pioneer.
This new character, Solara, whose appearance is triggered by emotional upheaval in Helia's life, has joined the battle against evil, at first fighting Continent-Eight, later anyone who got in her way. Mercurial, easy to anger, Solara is a force with which to be reckoned.
But most of the time, Helia's life, interrupted by a long stay under psychiatric care, has settled down. After several years operating an air-cargo service, she has taken on the job of Colonel in charge of the Special Outer-space Branch of the OSS – the Office of Swashbuckling Subjects of The Empire.
She is always (when her temper isn't flaring, mind you) happy to share with others her interests in astrophysics, other worlds, and æronautics.