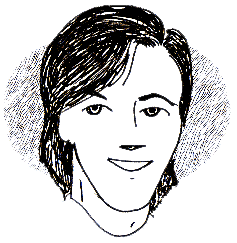 William's Favorite Web Sites
WILLIAM R. MILLS II
CL'S B-B-BUTTE B-B-BUDDY William Mills…
William and Robert met The Emperor in 1970, when they visited a meeting of the LA Science Fantasy Society to meet their favorite author, David McDaniel, whose "Man from U.N.C.L.E." novels they'd enjoyed. Finding that McDaniel was then part of the CLJII team, they happily joined in, working with CL and David on their projects and allowing their new friends to join in on their own endeavors.
They also joined in on the activities of CL and his CLique, becoming regular members of the team, and added their talents and skills to cases such as "The WesterCon Gambit" and The Emperor Loup-Garou. The training he'd put in to become a top-notch stuntman gave him a great advantage in the fight against crime, and his film-related talents made him thus an invaluable asset to both sides of the Imperial operation.
William's musical and other creative talents served him in good stead, and while Robert left to pursue other avenues, William continued to share his time and efforts with CL, between his own projects.
After William moved to Las Vegas, his work for The Empire was cut back, though he continues to be available when duty calls, most recently in the case reported as The Emperor at the End of the World, published as an Amazing Adventures Novel.
His interest in the World Wide Web and its applications have also been a tremendous asset in the creation and development of the Imperial Website, as well as his own sites and projects, such as "The Voices of Fandom" a web site showcasing audio and video of interest to SF fans (some old and quite rare as well as some more recently generated clips/interviews/podcasts) and REB Audio Books (for which he is Director of Audio Productions), and he delights in sharing his discoveries with friends and fans.