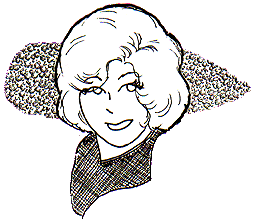 Alison's Favorite Web Sites
WHEN HIGH-SCHOOL GIRL Alison heard and investigated strange noises one night at her home in Santa Fe, New Mexico, she got the surprise of her life. Her father, an invalid, was actually Swashbuckler the Meteor, who had fought crime from a base in Los Angeles during the nineteen seventies and -eighties. Though partially paralyzed, he had been able to use a compact flight-control and a special belt-buckle, made of a rare extraterrestrial element that could screen out the force of gravity, to carry out his heroic career. In fact, it had been his reticence to revel his secret to his own wife (lest she be endangered by the knowledge) that had led to her divorcing him and leaving him to raise their daughter.
Once in on the secret, Allie, who had been floundering for a purpose in life, realized that what she wanted to be was a Swashbuckler herself.
Agreeing to a training period, Allie accounted for herself with high honors, and was allowed to join the ranks of the Hollywood heroes as Shooting Star, making her public debut in December 1994.
Continuing her education, she found new interests and hobbies, becoming a blood-sister to the Zuñi Indian tribe and given the name "Good Heart", as well as discovering a passion for spelunking (a peculiar pleasure for someone used to the wild blue yonder). After drawing out her college career well into her twenties, during which she continued as an adventuress, she became the heir to a fortune left by her grandfather, her mother's father who had been the Meteor's partner.
Freed from the need to work, she has indulged her love of travel, and gallivants across the globe, writing travel articles as a cover, and appearing as any one of the characters she has created for herself.
She invites you to share her interests in travel, Indian affairs, spelunking, and flying (but especially without an airplane), by visiting some of her favorite web sites.