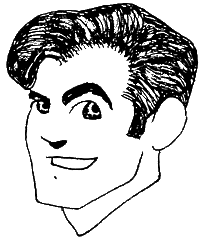 CLected Links
Bat Conservation International & CA bats site
150 favorite films
top 13 lists
CHARLES LEE JACKSON, THE SECOND, was born in Silver Lake, California, a suburb "just over the hill from Hollywood", and grew up in nearby Glendale, but his heart has always been in the Glitter City Where Movies Are Made. His parents, an automotive genius and a skilled artist, eventually had a family of eight children, of whom CL is the oldest.
Disabled in infancy by post-natal-onset Cerebral Palsy, CL spent his childhood and teen years overcoming obstacles that were for most people day-to-day activities. He spent much of that time reading and watching movies, and became intrigued at the artistry of story-telling and the craft of film-making, and taught himself both disciplines by observation and enquiry.
He also found that his uphill battle against his disability had endowed him with a will and a power far beyond that of other people, and soon found that the impossible was easy, and that the inconceivable merely had to be thought of first.
While still in High School, CL founded, with two companies (CLJII Pictures and CLJII Publications), what would come to be known as the "CLJII Entertainment Alliance Empire", later the "CLJII Empire of Entertainment", and finally simply "The Empire".
It was at this time that, thanks to Forrest J Ackerman and Bill Warren, CL discovered the Los Angeles Science Fantasy Society, where he met life-long companions such as Dan Alderson, Phil Castora, Ed Buchman, and his soon-to-be partner, David McDaniel, author of paperback novels in the "Man from U.N.C.L.E." series, and a world-class cinematographer and film editor, who became his right-hand man until his untimely demise in 1977.
CL also stumbled across the criminal machinations of Continent-Eight, the international executive of crime, and found himself rising to the occasion to do battle with these forces of evil just as he had battled his own handicaps – and as with them, he overcame great odds to triumph.
And so began The Empire's ascendancy into the realm of Justice. Fighting the leaders of Continent-Eight and their Enforcement Agents, CL met other heroes, including The Meteor and federal agent Max Decker, whom he impressed enough that they agreed to allow him to publish re-creations of their adventures. From this beginning, CL produced cartoon magazines, and later story magazines, featuring the exploits of these and other heroes, whom CL dubbed "Swashbucklers", to distinguish them from made-up comic-book super-heroes.
New friends, including William Mills and Robert Short, and the young Ed Green (who subsequently joined the American Armed Forces), joined in the fun and spirit of camaraderie of The Empire.
Battling enemies such as Continent-Eight and the notorious Doctor Double X, CL and his companions have continued through the years, with a new contingent joining the ranks of the Swashbucklers during the 1990s, just as the criminal element also became more active.
Over the years, CL's disability began to catch up with him, and he was forced to cut back on his activities. The Empire, which had grown to thirty-eight diverse companies (some creating entertainment, some disbursing it, and some simply supervising the activities of the assorted Justice fighters), was allowed to compact, most of the companies merging into CLJII Presentations, the flagship entity, and the two original companies.
CL's Justice Enforcement activities, however, grew, and those agencies, principally the O.S.S. (the Office of Swashbuckling Subjects), CL. E. W. (CLJII Empire Women), and CL.A.S.S. (CLJII Absolutely Secret Service [not its real name]), continued to guide and monitor a growing rank of Swashbucklers. Now joined by the Special Outer-space Branch, these agencies, under Imperial supervision, lead the fight for law and order in the early twenty-first century. The Fall of Continent-Eight in the late nineteen nineties spawned a whole new set of problems for the Swashbucklers, as new menaces began to jockey for position in the world of crime, and the Hollywood heroes have risen to the challenge. You can read their adventures in CLJII Publications.
Though fighting Injustice is grueling, it is also intermittent at best, and the free time allowed CL to pursue other activities.
In the 1990s, CL took advantage of his lightened workload to return to college, an activity for which there'd been no time before, and has pursued his degree in two-dimensional art as time permits.
Now, CL has added the World Wide Web to his outlets, and here at CLJII.com, you can join in the fun and adventure, and get a glimpse into all the things CL finds interesting.